Kitchen Project: Cabinet Doors and Drawer Fronts
Those you have visited our house in the last few years, or seen pictures on Facebook, obviously noticed that while we finished installing the cabinets and local granite counter tops a few years ago, the cabinets had no doors or draw fronts. While this was very functional, it did lack something in aesthetics, and gave a somewhat cluttered and industrial look to the kitchen as can been seen with the refrigerator and freezer doors to the right.

Unfortunately other demands on Steve's time and various health issues postponed finishing the kitchen until recently when we have been working with friend and neighbor, Ron Setzer, a local cabinet maker to finish the kitchen.
The design features a unique style of cabinet doors and drawer fronts made from two different woods and three colors. The drawer and drawers fronts have inner panels made are from maple and the rails and styles from African Mahogany or Khaya that has been varnished, but not stained. The drawer and drawers fronts are inset thus reviewing the Khaya face frame that has a dark mahogany stain. Thus the face frames become an element of the design, rather than being hidden behind the doors and drawer fronts.
The warm tones of the varnished wood surfaces and variation in tone, also goes well with the flooring, which is amendoim, a Brazilian hardwood. With time and exposure to light, the maple should darken slightly as will some of the lighter pieces of Khaya.
This is still a work in progress, but it is coming along and from the pictures below and the new refrigerator and freezer doors (with handles!) on the right, I hope you will agree that it looks a lot better than before.
Go the Ron's website to view more images of our kitchen and other work that Ron has done, including some unique pieces of furniture.
Here is some more photos of the kitchen, clamps and all.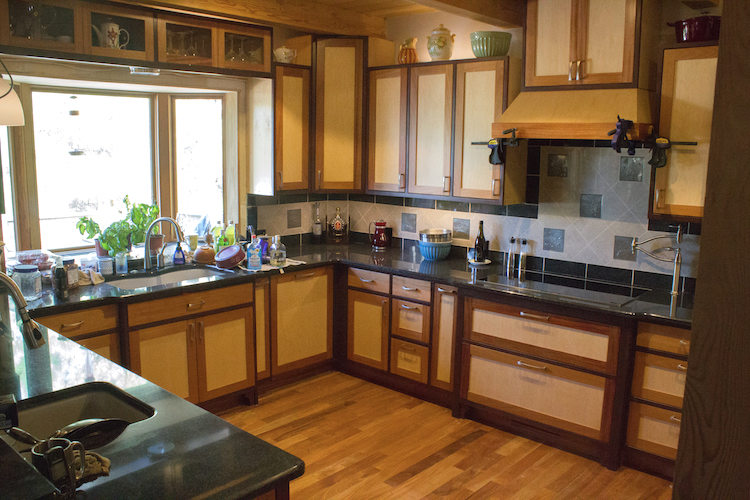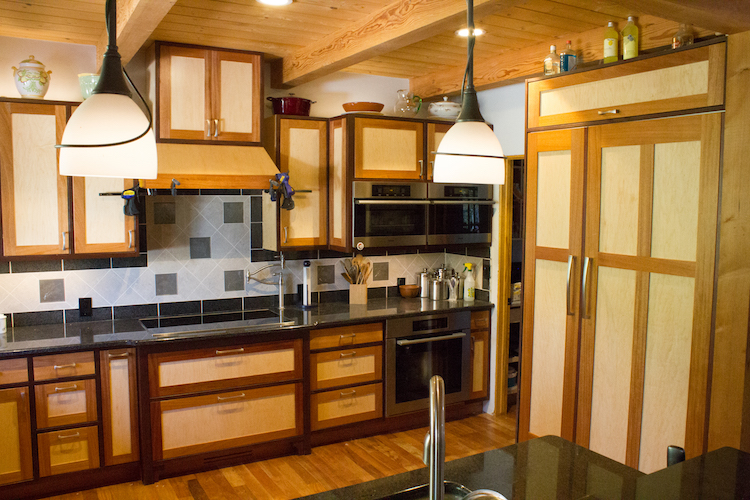 The first test of the hood with wood trim was cooking Tamale pie for 30 homeless people who eat and sleep 5 nights a week at our Methodist Church. It seemed to work fine even without the clamps!