SMARTAVTWEAKS
You have reached the homepage of Rosemarie and Steve Smallcombe. Rosemarie won her race for District 1, Mariposa County Board of Supervisors with 59% of the vote! RosemarieSmallcombe.com was established to collect materials relevant to her campaign.
This website is called SMARTAVTWEAKS as Steve once had a home business selling SMART software and hardware to help people calibrate or "tweak" their video projectors, hence the name smartavtweaks. Steve suspended sales of the SMART products in 2005 when Steve's other commitments left insufficient time to properly support the SMART product. Steve has kept the smartavtweaks domain name active as many people come to the site everyday while researching how to understand and optimize their video projectors. The original smartavtweaks homepage that deals with tweaking video projectors is here.
Chances are pretty good that you have arrived at this website because you are interested in improving the performance, or collimating, your Newtonian telescope for astronomical observations. Steve developed the Rear View Barlowed Laser technique based on the work of Nils Olof Carlin, and the page describing this technique has been the most visited page on the site for many years. For this and other ideas about tweaking your telescope click here.
Rosemarie and Steve are now retired and living in Jerseydale, a small community in the mountains above Mariposa California, just a few miles from Yosemite National Park. Over the last few years we have been owner-builders of a very energy efficient "green" house and the technologies involved in the house are described here.
Biomass Our current project is to establish a biomass facility in Mariposa County.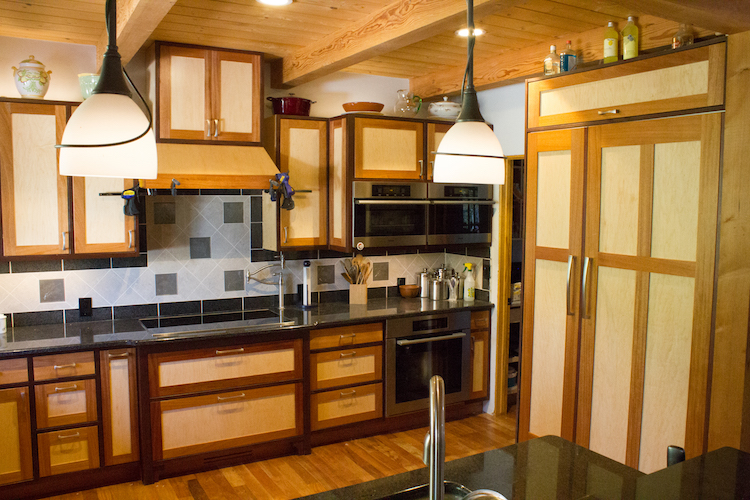 Finishing the Kitchen: Those you have visited our house in the last few years obviously noticed that while we finished installing the cabinets and local granite counter tops in the kitchen, the cabinets had no doors or draw fronts. Things are changing for the better. See our progress on the kitchen here and other rooms on our cabinet maker's website here .
Home Theater: We are finally finishing up our home theater with the most recent incorporation of Polk LSiM speakers and a new cabinet to hold the equipment. Read more here.
Desalination I have also recently written a blurb about the energy associated with seawater desalination as the topic will often come up in conversation. Desalination of seawater seems like such an obvious and easy solution to California's drought problems. Seawater desalination has several environmental problems including the sea life kill at both the feed and discharge tubes. I think, however biggest problem with seawater desalination is that it required 10 times the energy compared to current freshwater sources in California, and the minimum theoretical energy required for seawater desalination is fundamental and determined by thermodynamics - it won't be solved by some magic membrane such as graphene or carbon nano-tubes.
Because of man's use of fossil fuel energy and the resultant climate change, our planet is like a car speeding towards a cliff. We can either decide to apply the brakes as hard as we can, by using less energy in every possible way, AND asking tough questions about how we use our current supply of precious water here in California. Or we can advocate for desalination as a solution to our water problems which would be like stomping on the gas pedal, exacerbating climate change, and go over the cliff shouting something from Thelma and Louise.
There certainly are communities where desalination is the only answer and so be it. But in any community it should be the method of last resort, and only used after all other methods of water conservation and water recycling/reuse have been implemented. The problem arrises if we start to think of it as a more general solution to our water problems without fully realizing the impact of extensive use of seawater desalination on climate change. Click here to read.
Tesla Model S
We now have a new member of the family an 85 kWh Tesla Model S – a pure battery powered Electric Vehicle that has an EPA certified range of 265 miles. The Model S is a dream to drive – handles and accelerates like a high-end sports car, rides like a plush luxury car, has room for 5 adults (and 2 kids with the optional 3rd row seating) the cargo capacity of a SUV, and is greener than a Prius. And it looks kind of cool too. We now have what is called the Tesla grin. Here is a report of our first road trip, 486 miles, Mariposa to Fresno to Pollock Pines and back in one day.
As of April 2015, In two years and one month we have owned our Tesla model S, we have driven 52,000 miles, averaging over 2000 miles a month. Besides local driving, trips include multiple trips to Sacramento and the Bay Area as well as North and South Lake Tahoe, San Diego, LA, Newport Beach, Anaheim, and in October 2014, we drove to Michigan and back to attend a wedding.
For our Michigan trip, we left Mariposa at noon one Sunday and spent that evening in Las Vegas. The following few nights were spent in Grand Junction Colorado, Rapid City South Dakota and LaCross Wisconsin. We arrived the following Thursday in Kalamazoo Michigan. Our longest driving day was 638 miles.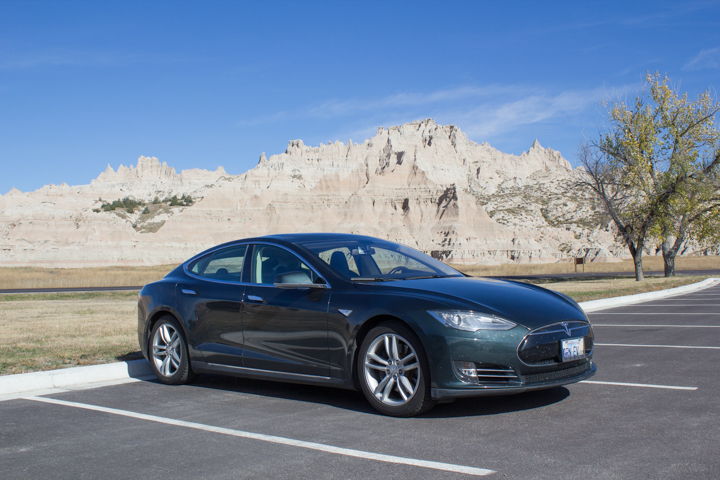 Our return trip basically retraced the same route with overnight stays at LaCrosse then Murdo South Dakota. The next day was a play day and we toured 1880 town, Wall Drugs (don't bother), and the Badlands National Park, spending the night at Rapid City, SD. The following day, after a lunch with family in Denver, we made it to Grand Junction for the night. The next day rather than spending the night in Las Vegas we pushed on to Barstow and spent the night there before returning home to Mariposa.
Charging during the trip was free as we did most all of our charging at Tesla Superchargers with charging stops as short as 18 minutes, but longer if we were eating a meal or shopping. Our one attempt to charge with a Level 2 (240V) J1772 charger at a Las Vegas Hotel was a limited success as it only charged at 13 MPH and and the overnight charge was not sufficient. As a result, we stopped by the Las Vegas Supercharger for 20 minutes before driving into Utah. While staying at Steve's mother's retirement home in Kalamazoo, we were able to maintain our charge and actually increase our charge using a 120V outlet in the underground garage.
Yes we still really love our Tesla!
Dogs and Cats
Click here to see the Smallcombe Pack
Local Organizations
As of January 2015, as Rosemarie assumes her responsibilities as a Mariposa County Supervisor, we are no longer serving as the as co-presidents of the local Mariposa Democratic Club. We will continue to serve on the Mariposa County Democratic Central Committee (MCDCC). Rosemarie is Vice-Chair of the MCDCC, Mariposa County's representative to the California Democratic Party (CDP) Executive Board and Chair of the Education Committee of the CDP Rural Caucus. We also serve on the board of a local Environmental Group, Mariposans for the Environment and Responsible Government.
Rosemarie has also resigned from the Master Gardener organization to allow more time for her duties as Supervisor.

Steve gave a presentation on Climate Change at a Democratic Club meeting and local Audubon event that is available here, and is a Climate Reality Project certified presenter available for climate change presentations in the central and foothill/mountain regions of California.

Steve's email is shs@sti.net
Rosemarie's email is rms@sti.net
Thanks for visiting.